2019 Award Applications are due by
July 1, 2019

:
2018 Executive of the Year: Rick Meredith, Anderson County Chamber of Commerce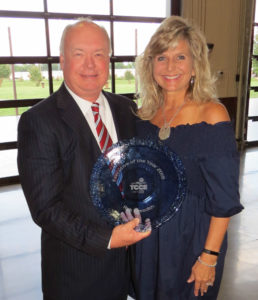 [The Oak Ridger, August 30, 2018]  "On behalf of the Tennessee Chamber, we would like to congratulate Rick Meredith for being selected as Tennessee Chamber Executive of the year," Tennessee Chamber of Commerce President Bradley Jackson stated in a release. "The Anderson County Chamber, under Rick's leadership, is truly one of Tennessee's premier chambers of commerce and economic development agencies.
 "This award truly demonstrates Rick's success and achievement in managing a complex organization and engaging business leaders in Anderson County to ensure economic and community success. Chamber professionals like Rick are why Tennessee is consistently recognized as a great state for business and manufacturing."
On receiving the award, Meredith reportedly stated: "It is an honor to win this prestigious award. I am very thankful for the support of the Chamber board of directors, our membership, the ambassadors, and our committees. My staff and I look forward to continuing to keep up the momentum in Anderson County.
"We've accomplished a lot, but still have a great deal of work to do."
2017 Executive of the Year:

Paul Latture, 

President, Rutherford County Chamber of Commerce

The Tennessee Chamber of Commerce Executives, a statewide chamber professional association,  recognizes the quality of chamber of commerce executives in Tennessee and  identifies the most effective chamber professional, as indicated by nomination, who has made a significant difference in a local Tennessee Chamber.
Criteria evaluated includes professional experience, training and education, ethical conduct in dealing with peers, professionalism, leadership and the desire to advance the profession of chamber management.
Pictured left: Paul Latture, President and Stephanie Brackman, IOM, Chief Operating Officer – Rutherford County Chamber of Commerce
"The Chamber has added more than 12,000 jobs and a capital expenditure of more than $1.7 billion under Latture, Riddle said. Travel-related expenses have increased every year, and through his tenure have totaled over $1.4 billion, she confirmed.
"Paul is well deserving of recognition for the numerous successes of the Rutherford County Chamber of Commerce and the significant and leading role he and the Chamber have played in the robust business environment in Rutherford County," said Bill Jones, area executive for Pinnacle Financial Partners in the release.
Latture has helmed the Rutherford Chamber since 2009 after serving as president and chief executive officer of the Jackson Area Chamber."